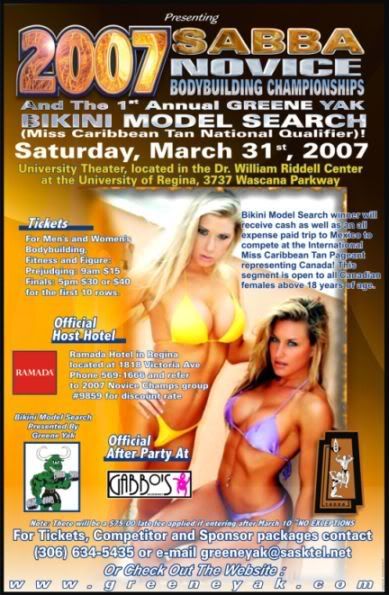 COMPETITOR INFORMATION for the
THE 1ST ANNUAL GREENE YAK FITNESS MODEL SEARCH
HOST HOTEL: Ramada Hotel
1818 Victoria Avenue
Regina, SK
Reservations: 1-306-569-1666
(refer to "2007 Novice Champs group # 9859) for discount rate)
Please book by March 17th, 2007 to guarantee your rate
WEIGH-INS: 6 pm sharp
Friday March 30th, 2007
University Theater, located in the Dr. William Riddell Center
at the University of Regina
3737 Wascana Parkway
Regina, SK
FINALS: 5 pm
Saturday March 31st, 2007
University Theater, located in the Dr. William Riddell Center
at the University of Regina
3737 Wascana Parkway
Regina, SK
Fitness Model Search Competition Information
This is the 1st ever Greene Yak model search which is perfect for the female who has an athletic physique with possibly (but not mandatory) a modeling background that yields a marketable look. This event is a terrific opportunity in many regards to the competitor. The bar has been raised for this event in that this event is being used as a National Qualifier. Aside from the prestige of winning the 1st ever Greene Yak model search, the winner of the model search will be given the opportunity to represent Canada at the Miss Caribbean Tan International Finals Pageant! That's right, the winner will receive an all expense paid trip (air, hotel, food) to Mexico for a week to represent Canada for the first time ever!
In the model search you will not be required to perform a gymnastic routine. The model search competition will consist of two (2) rounds:
Round One – sports attire round
In the sports attire round, the competitor may wear any type of athletic clothing that compliments your particular body type. Fitness or gym wear, aerobic wear, sports skirts, workout "booty" shorts are all good examples. All attire must be tasteful with respect to decency. Bare foot or sport shoes are acceptable, but heels are not permitted. The competitor will be judged on an on overall athletic appearance that is naturally obtainable.
Round Two – two piece bikini with high heels
In the two piece bikini round, the competitor will be judged on an on overall athletic appearance that is naturally obtainable as in round one. High heel shoe style and two piece bikini style and color is up to the competitor, however absolutely no G-string or thong bottoms will be allowed. It is important to note that the judges will be presented a different "total package" while wearing a two piece bikini with high heels as opposed to the sports attire round and therefore will be judging with a fresh perspective.
General Model Search Rules and Regulations
*Competitors must have filled out and signed the Model Search entry form and paid the entry fee.
*Hair may be styled as desired, as well as jewelry is allowed as long as not excessive.
*No posing oils or lotions are allowed in any round.
*All two piece bikinis and sport attire must be brought to the weigh-ins. If you do not have it with you, you will be allowed 15 minutes to get it. If not brought in this time frame, you can be disqualified from the competition.
*Numbers must be worn on the left hip in all rounds.
*Depending on the number of competitors, the competition format (for both rounds) are as follows: The competitors will line up at the back of the stage and be called out of the lineup one at a time in which they will have approximately 30 seconds to move around the stage walking the "catwalk". You may stop, do a ¼ turn, ½ turn, and/or strike a pose in a manner that a runway model would, and in a way that suits and compliments you best. Remember to make sure the judges see you.
* Back Stage: Due to the size of the backstage and change rooms, no one will be allowed to accompany you back stage; friends, coaches, etc. There will be help for the competitors back stage. Security will be present.
*Competitors should be at the venue approximately ½ hour before show time to familiarize yourself with the stage and backstage area.
Note: There will be no pump up weights supplied backstage at the venue. If you require any pump up weights, or rubber resistance bands, you may bring them.
Adrian Burke -
www.FUSIONBodybuilding.com