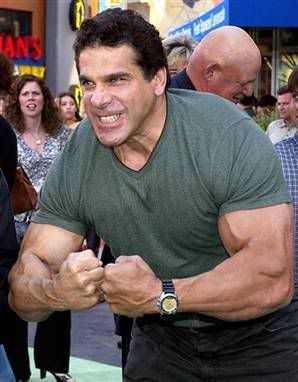 Life & Style
is reporting that Lou Ferrigno is going to be on the next season of ABC's "Dancing With the Stars."
"I had a good meeting with the producers for 'Dancing With the Stars.' It was really positive, and they loved the idea of having me on the show," said Lou. "I've never done that type of dancing before, so I know that I'll have to train hard. I'm a glutton for punishment, so I'll give it my best shot."
Training hard for something shouldn't be a new experience for the former bodybuilder. Lou was featured in the 1977 film "Pumping Iron," a documentary about bodybuilding that also featured Arnold Schwarzenegger.
Lou is probably best known, though, for portraying the Hulk on the CBS series "The Incredible Hulk" from the late 70s/early 80s.
Ferrigno had reportedly been training with recently deceased Michael Jackson before his upcoming concerts.
We wish Lou, who has had a hearing impairment since he was a child, the best of luck!
Eric Winkler, ewinkler@kcstar.com