Whoever said bodybuilding was all about genetics was selling bodybuilders short, in fact, he was selling one bodybuilder in particular really, really, really short. I don't know if you've heard about him, but his name is Aditya 'Romeo' Dev and he's a 2 foot 9 inch tall, 20 lb, bodybuilder from India. Aditya's small stature is the result of being born with dwarfism. But that apparently hasn't stopped him in the gym. He has special 3 lbs dumbbells that he uses to shoulder press. He recently was brought to the attention of the world by England's Telegraph newspaper.
http://www.telegraph.co.uk/news/worldnews/1578443/Romeo-Dev-the-worlds-smallest-bodybuilder.html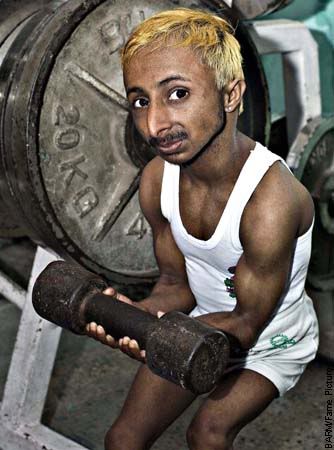 Aditya's trainer, Ranjeet Pal, who is a family friend that runs a gym in his home town of Phagwara, says that Romeo has never let his size get in his way. "Romeo trains more or less the same as anyone else and he's much more determined," he said. Isn't this what bodybuilding is all about? The heart to put the time in to see result and end up with the best body you can despite what was given to you. Screw genetics - just lift.