Good morning Bodybuilding Culture. Depending on where you are located on this place called earth, isn't it great waking up and not freezing your ass off?! I love it. The warm weather is upon us and soon that hard work in the gym over the winter is going to pay off. Everybody will be checking you out or maybe checking out your girl. Hell, it's all good. Enjoy the respect you will get from all your hard work.
Well, it was a great month for business and the culture is growing. There has been good progress on the development with the new Test Booster – ZEUS and we are all stoked on the release of this hardcore product. I will keep you posted on the launch.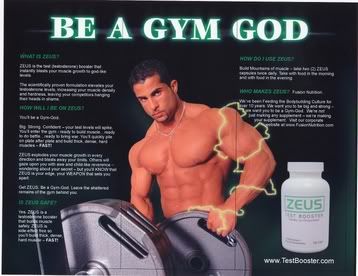 On the lighter side of things, we are sad to say that Fouad is gone. No, not dead. Fouad is doing very well but the dude needs more. Fouad has been a great part of this company for some time but it is time for him to move on. We at Fusion Nutrition wish him the best with his journey to the top and we will continue to support him morally. Fouad has the potential to be the best and you could see more pictures and information by logging on to: http://www.fusionnutrition.com/Fusion-Nutrition/links.htm and click on Fouad Abiad under the athletes and models links.
All the best Fouad.
Chris Belanger – VP Sales