This news comes courtesy of
Woodtv.com
Bodybuilder found guilty of January murder.
Updated: Thursday, 10 Sep 2009, 8:15 PM EDT
Published : Thursday, 10 Sep 2009, 8:15 PM EDT
GRAND RAPIDS, Mich. (WOOD) - The man man accused of strangling a woman on Grand Rapids' west side was was convicted of first-degree murder Thursday.
Kenneth Ray Thomas, 38,
was charged with killing 53-year-old Debra Jean Vanklaveren. Her body was found in her apartment January 5th in the 300 block of Indiana Avenue SW. Police originally thought it might have been a natural death, but changed their minds when they couldn't find her dog or car.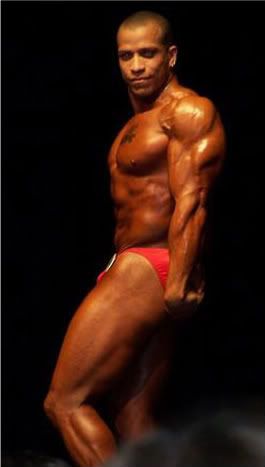 He will be sentenced October 8th to life in prison with no chance for parole.
Thomas' MySpace page shows he lived his life in the gym. Most of his pictures show him flexing in what appears to be a bodybuilding competition. He says on the Web site that his hero is Jesus and his faith is what keeps him strong.